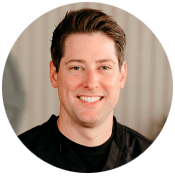 Dr. Chuck Odion grew up doing any activity that kept him close to the water. Sports like water polo and surfing were his favorites, and easy to come by in his hometown of Orange County, CA. He traded in the sunny coast for the snowy mountains after high school and graduated with his Bachelor's from the University of Utah before returning to California in pursuit of a dental career. Dr. Chuck completed dental school at the University of Southern California before his acceptance to the Nation's #1, Children's Hospital of Philadelphia (CHOP) to complete his Pediatric Specialty degree where he excelled and became the Chief Resident.
Dr. Chuck is married and has four kids, three princesses and one "mini-me" version of himself. When he is not enjoying his daughter's dance competitions, he is riding his mountain bike. Most would ride their bikes during the day; however, Dr. Chuck enjoys the adventure of night rides in the pitch black, with two headlamps and mountain lions which makes night riding the perfect exhilarating activity.
Dr. Chuck recently decided to expand his knowledge and further his educational pursuits by earning an MBA from Eccles School of Business at the University of Utah, which he will complete in the summer of 2020. No need to fear, his disdain for numbers and accounting will keep him squarely in dentistry but his love for knowledge keeps him going to his night classes. Dr. Chuck is a Board Certified Pediatric Dental Specialist with a fun, high energy, and goofy personality that is perfect for providing the best dental care for your infants, children and teens.